Involving, engaging, entertaining... singing!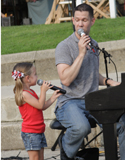 The best dueling pianos entertainment is located right here with Orlando Dueling Pianos, right here in Central Florida. 176 Keys Dueling Pianos has been the leader in bringing dueling pianos shows right to corporate functions, weddings and other private parties for 9 years, and can do so even easier in central Florida. We are very particular, using only 12 players for our shows throughout the country. Two live right here in Spring City, and the owner's family lives in Merritt Island. We of course love to play near home, which leads to savings for you. This means you get the best show in the country, for a local price. See our dueling pianos reviews for hundreds of shows, including here in Florida in places such as Orlando, Kissimmee, Lakeland, Winter Haven, Tampa, Clearwater, St Petersburg, Winter Springs, Sanford, Deltona, Davenport and more. Orlando Dueling Pianos, Orlando's best show, available anywhere, right here at home with great prices.
Featured Review
I cannot even begin to tell you that my prayer to do something special for my husbands birthday was answered. I think every single person had the best time and it honestly was the best party ever. The guys were phenomenal and we were all blessed with an unforgettable evening. I wish you and the guys and your company the best.